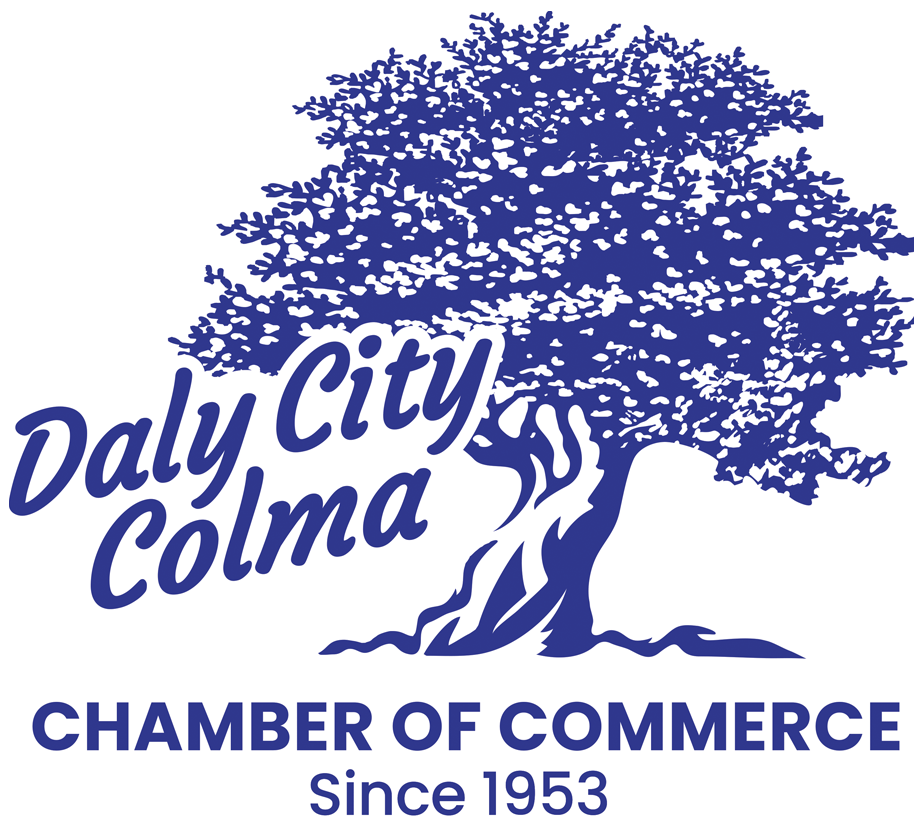 Chamber events are being held virtually because of the pandemic. Please watch the website and social media for updates.
Virtual Happy Hour Cocktail
Check back for next jelly beans and networking ....
Business to Business Extravagzana
Business News & Views Breakfast
Business to Consumers Showcase
Annual Halloween Spook Parade & Costume Contest
Annual Bowling Tournament
Annual Holiday Soiree and
65th Cypress Business Awards & Installation Ceremony
12th Annual Crab Feed
Scholarship Fundraiser
Vignette
Vignette
Vignette
Click here to see 2020 events.
Check back as the Event Calandar
is subject to change.

FOLLOW US:




UPDATED: Additional Businesses Close Sunday, August 2, 2020
"The state has informed  
San Mateo County
  that due to being more than 3 days on the COVID monitoring list, specific indoor businesses must cease operations, unless they can be modified to operate outside or by pick-up. Beginning 12:01 a.m. Sunday, Aug. 2, 2020, the state order to close or move outside applies to the following businesses:  
Gyms and fitness centers
Places of worship and cultural ceremonies, like weddings and funerals Offices for non-critical infrastructure sectors
Personal care services, like nail salons and body waxing
Hair salons and barbershops
Shopping malls
Shops that offer tattoos, piercings, and electrolysis may not be operated outdoors and must close.
Information about the County of San Mateo's response to COVID-19 is at  
www.smcgov.org
 ."
---
Business Display Requirements Webinar 7/23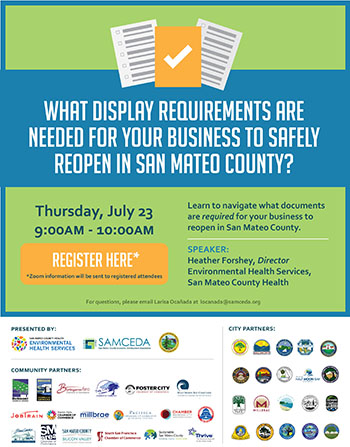 Click here to register or on poster.
Click here to download poster.
Governor Orders, Statewide Shutdown of Indoor Dining, Movie Theaters, Family Entertainment Centers as Covid-19 Cases Spike
"Gov. Gavin Newsom today ordered a sweeping shutdown of indoor dining, movie theaters, family entertainment centers, and additional indoor operations in all counties, including San Mateo County, amid a statewide spike on COVID-19 cases.
Governor Newsom's measures further emphasize the need for all of us to do our part in stopping the spread of COVID-19,' said Dr. Scott Morrow, San Mateo County Health Officer. 'That means wearing a face covering, maintaining social distancing, and limiting our activities. It's up to us to determine our future.'
The following must close statewide – including in San Mateo County – under the governor's emergency order:
Dine-in restaurants (indoor)
Wineries and tasting rooms (indoor)
Movie theaters (indoors)
Family entertainment centers (indoors)
Zoos and museums (indoors)
Cardrooms (indoors)
Brewpubs, breweries, bars and pubs (indoor and outdoor)
Outside dining is still allowed."
Click to Read the Press Release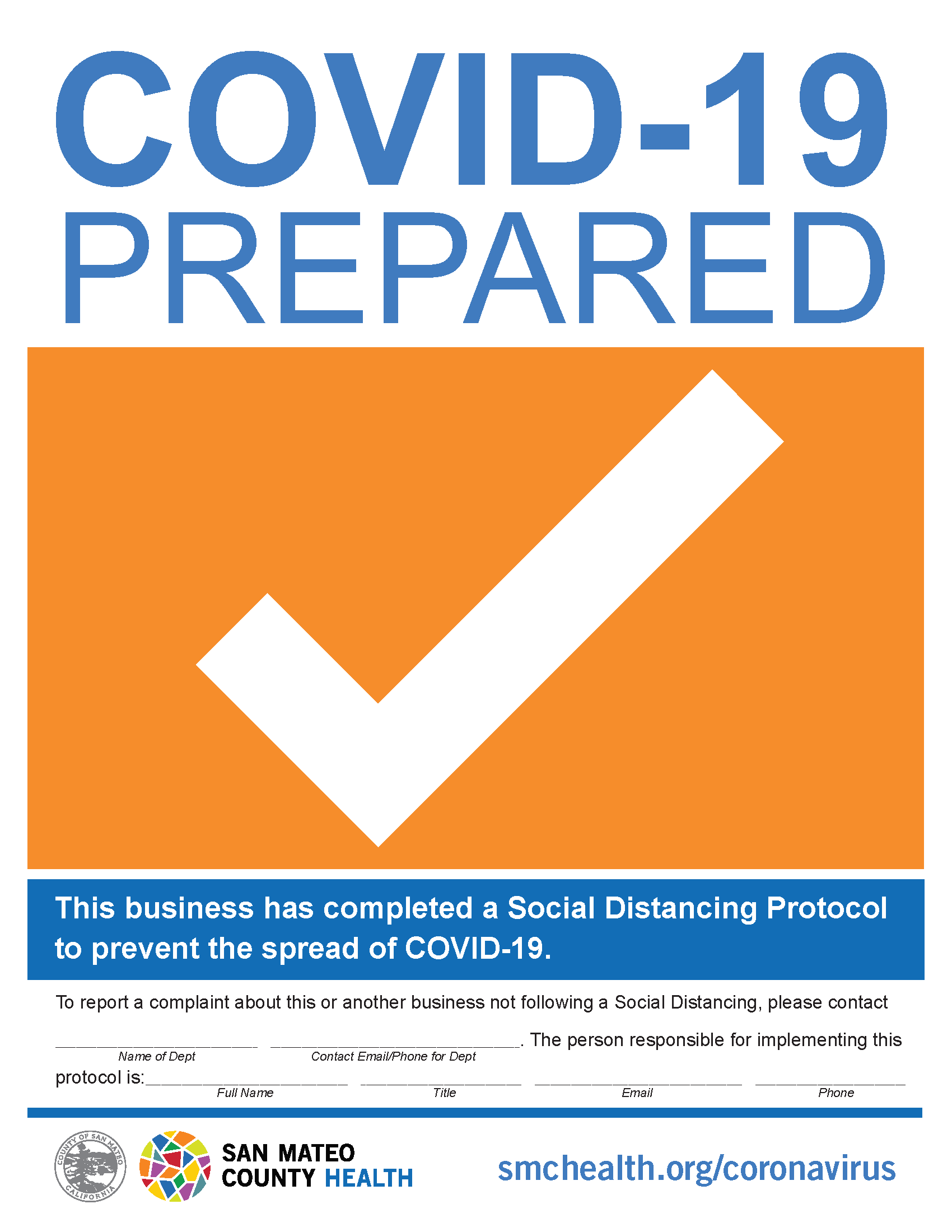 COVID-19 Requirements & Resources:

Document Display Requirements for Businesses in San Mateo County

San Mateo County Health has provided COVID-19 requirements and resources for businesses:

Frequently Asked Questions for Businesses (as of 6/26/20)

COVID-19 Exposure Guidance in the Workplace

Document Display Requirements for Businesses:

Self-Certification Placard 

Health Officer Order Appendix A: Social Distance Protocol

Health and Safety Signage

Health and Safety Plan

Industry-specific information (food safety, housing, land use and more)

To access San Mateo County Health's resources, please visit here.

(Click for more information with San Mateo County Reopening Plan)

COVID-19 Resource Link Center

Paycheck Protection Program (PPP) Loan Forgiveness Guide NEW!

Under the Paycheck Protection Program (PPP), loans may be forgiven if borrowers use the funds to maintain their payrolls and pay other specified expenses.  Click here  to download this step-by-step guide to calculate your loan forgiveness amount, navigate record-keeping requirements, and determine repayment terms on amounts not forgiven. We hope you will share this new guide with your members.

Reopening Business Digital Resources Center New Resource Added!

Last week, as part of the Path Forward initiative, the U.S. Chamber unveiled its  Reopening Business Digital Resources Center  to equip America's business community with the latest state guidelines, sector-specific guidance, small business advice, and other tools and resources as we look to reopen safely and keep employees and customers healthy and informed.

Now, the resources center also includes a  customizable workplace flyer  to help you and your members communicate the steps your company is taking to keep them safe and prevent the spread of COVID-19 to employees and customers.

Reopening Business Digital Resources Center Toolkit

In addition to the Reopening Business Digital Resources Center, and as you and your members face new questions and unprecedented new challenges, the U.S. Chamber has also created a comprehensive  toolkit  of key messages, example posts, and social media graphics for you to utilize while sharing the tools and resources with your local business communities and networks. 

Click Here to View the Toolkit


Small Business Reopening Playbook Now Available in Spanish! 

Click here  to view the U.S. Chamber's new  Small Business Reopening Playbook  which provides in-depth information and resources for you and your members as you plan and prepare to reopen and get back to work.

Considering that reopening strategies will largely depend on the state and business type, this guide has consolidated federal, state, and local guidelines, industry specific resources, insights and strategies from leading experts, and more.

The playbook is now available to download in Spanish— click here   to learn more.






Updated: MMay 24, 2020