Mission Statement
The role of the Daly City Colma Chamber of Commerce shall be to encourage business development and networking, providing members with useful information and services. The Chamber shall take a leadership role in promoting economic, professional, commercial and civic vitality for our communities, while seeking to preserve the unique qualities that are good for business and make Daly City and Colma very special places to live work and do business.


WHAT THE CHAMBER IS
Dedicated to business and committed to promoting the Cities of Daly City and Colma as an excellent place to do business. Chamber members engage in such valuable activities as meeting to exchange ideas, forming new business contacts, solving mutual problems, lending support and planning for the future growth of the business community.


WHO THE CHAMBER MEMBERS ARE
The Chamber is made up of business people just like you, including a broad cross-section of small businesses, major corporations, professionals, individuals and others who serve the local community.


WHAT THE CHAMBER DOES
The Chamber sponsors many business events and activities including an annual golf tournament. In addition to seminars and mixers, there are workshops especially designed to help the business community. The Chamber informs and educates by publishing a newsletter and various other timely publications as well as offering valuable assistance whenever needed.

HOW THE CHAMBER IS ORGANIZED

The Chamber is governed by a Board of Directors made up of community business leaders. A Chief Executive Officer manages the Chamber offices, handles day-to-day operations and implements the goals and objectives as set forth by the Board.


WHAT THE CHAMBER DOES FOR YOU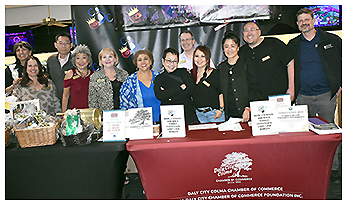 Daly City Colm

a Chamber of Commerce Board of Directors 2022 Board of Direct

ors
You will immediately experience an increase in business contacts through your active involvement as a chamber member. The Chamber has many active committees with member volunteers. Valuable networking and many new referrals will enhance your business endeavors. The Chamber also will provide you with information on local business trends and new proposals, put you in touch with people who can help you operate your business better, keep you up-to-date regarding local activities and help to promote your business.


WHY YOU SHOULD BE A MEMBER AND HOW TO JOIN

Your involvement gives the Chamber and you a stronger, more effective voice in the community. This is your opportunity to participate in city wide business activities and to contribute to the positive business climate. It's easy to join - please download, complete and submit our info/member request form.

BENEFITS OF MEMBERSHIP
Discover new business opportunities by taking advantage of the many benefits that come with Chamber membership.
Here is a partial list of ways the Chamber can help your business:
Advertising opportunities in the monthly eNewsletter delivered to over 1,000 businesses and on the Chamber's Web page
Participation in the Turkey Bowl Tournament, Crab Feed Dinner, Annual Golf Tournament, and more
Opportunity to network and showcase your business throughout the year.

REFFERALS AND BUSINESS CONTACTS
Phone referrals of your business to potential customers (residents, businesses, and tourists) by Chamber staff. (The Chamber refers members only)
Networking opportunities at Mixers
Business to Business Showcase
Business to Consumer Showcase

PUBLICATIONS TO HELP YOUR BUSINESS
Weekly DCC Chamber 2.0 eNews
Yearly updated economic profile (free to members)
A variety of marketing tools available
Low cost advertising for Members Only

GOVERNMENT REPRESENTATION
Updates on local issues in the newsletter to update members on important local issues that affect their business
Chamber endorsements of projects beneficial to the business community and representation at relevant City Council or Commission meetings

COMMUNITY INVOLVEMENT
Involvement with Mayor/Chamber Walks with local Business owners to discuss concerns.
Major Employer Breakfast
Scholarships to high school seniors
Education Committee
Youth Job Fair
Annual Golf Tournament